Besides a lot of debris and junk that we inherited (including a safe) We just recently noticed the interesting fixtures throughout the house. The same fixtures you see knockoffs for at outrageous prices at Design Beyond Within Reach.
This is in the kitchen area. Interesting design, but it has a very ugly white cord running to the ceiling. Obviously that can be changed. Ideas??
This shape is very popular in mid century modern lighting for sale right now, except most are fabric shades. This looks a little like it:
There are 4 of these fixtures throughout the bedroom wing.

And the current offering from Lamps Plus: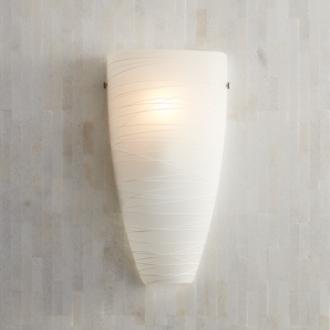 Wall-mounted lighting was typically reserved for the exterior of the home. While a few different variations of Eichler outdoor lighting can be found in different Eichler neighborhoods and developments, the most common exterior lights are bullet lights (sometimes referred to as bullet sconces, cone lights or torpedo lights)
Looks a bit like this but I like the pointy-ness of the below fixture better.
It will be fun incorporating these into the remodel!